Home /
Which Protein Powder Tastes Best?
Author: James O'Sullivan • Fact checked by: Gainful Registered Dietitians • July 6, 2022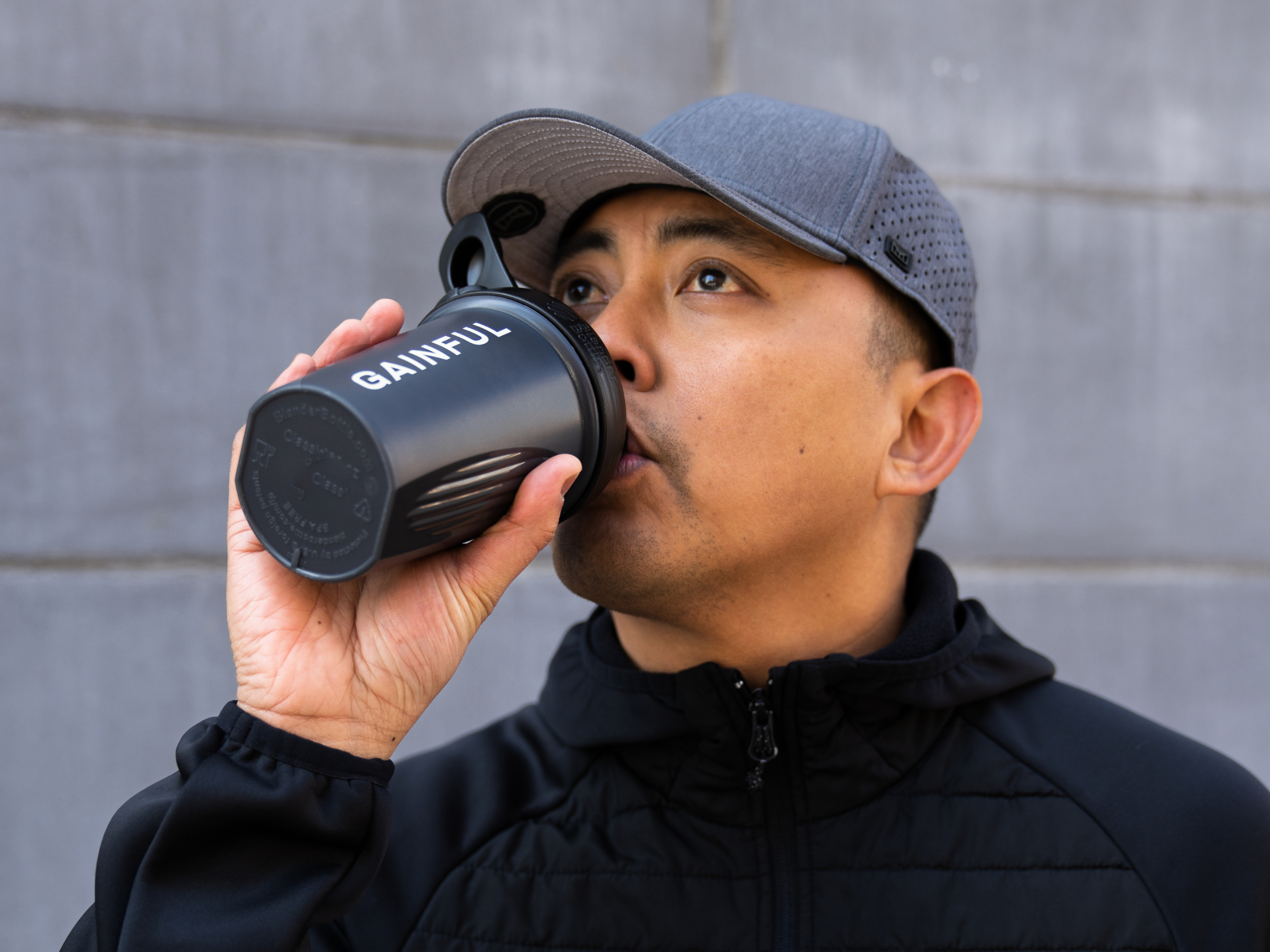 Which Protein Powder Tastes Best?
Who says protein supplements can't taste great?
At Gainful, we believe your supplements shouldn't just level up your athletic performance — they should taste delicious as well.
Supplements like protein shakes shouldn't be a bland, flavorless bore we have to stomach to maximize our fitness regimen. We should get the same joy and thrill from our supplements that we get from a solid, fulfilling workout.
Conventional types of protein powders, whether whey protein powder, whey isolate, or other options, tend to taste not quite the way they promised.
That's why we've added unique, satisfying flavor options to each of our personalized supplement packages without artificial ingredients. We've made sure that you're getting all the nutrients you need for an optimized workout experience and the flavor variety that makes your supplement your own.
When it comes to finding a protein powder that actually tastes good, Gainful has you covered. Let's go through all the great tastes and benefits of our supplements so you can decide for yourself which taste suits your buds.
What's in Gainful Personalized Protein Powder?
Our Protein powder supplement is a must for people looking to capitalize on their gains at the gym. Strength training and other muscle-building exercises can take a lot out of you. In fact, one theory on muscle growth states that microtears are key to building muscle mass.
That being the case, you need a solid amount of protein to sustain your muscles with ingredients that both fuel and restore muscle mass. We got a whole bunch of high protein, ingredients in our protein blend that makes it the powerful supplement that our customers love. Here are just a few ingredients that make our Personalized Protein Powder so effective.
Organic Plant Protein
Your protein intake from our powder is sourced naturally from pea protein extract, brown rice protein, whey protein isolate, and whey protein concentrate — all of which accommodate vegetarians. There's also organically sourced micellar casein, so you can get that slow-release protein perfect for post-workout muscle growth. You'll get 19 to 27 grams of protein in one serving of your Personalized Protein Powder: All-in-all, a jam-packed protein source.
BCAA Extract
Branched-chain amino acids are a staple in protein supplements. Why?
BCAAs are essential amino acids your body needs to build protein. BCAAs like isoleucine, leucine, and valine are fundamental building blocks to the proteins in our body and can help you both build new muscles and repair the muscles you've got post-workout.
You get all nine essential amino acids in this supplement, so your muscles have all the resources they need to grow.
Coconut Oil
Coconut oil has been shown to help with ketosis.
Ketosis is a process where the body breaks down fats to burn for energy. You sometimes hit a wall when you're hard at work getting your reps. Ketosis can give you the extra energy you need to break through that wall and keep on exercising.
Green Tea Extract
There's encouraging research that indicates green tea has a positive effect on our fat metabolism while we're at rest and while we're exercising.
Your Personalized Protein Powder has green tea extract to get your metabolism fired up for when you start getting a sweat on. Boosting your metabolism can help you burn more calories and carbs, get more energy, and promote weight loss. When you're already pushing yourself at the gym, green extract can help give you that extra push you need.
Zero-Calorie, Natural Sweeteners
You shouldn't have to pay a caloric cost for great taste. We use zero-calorie sweeteners in our Personalized Protein Powder so that you can enjoy how your supplement tastes without having to sweat the extra calories. We use non-GMO, organic monk fruit and stevia extract, naturally sourced ingredients instead of artificial sweeteners.
You can see for yourself the other ingredients, like sunflower seed oil, that go into your personalized powder. When it comes to your fitness, we believe in total transparency. When you can see what goes into your supplement, you can trust that you're getting the best of the best, tailor-fit to your needs.
Your Personalized Protein Powder lives up to its name.
Take this quiz to see how your supplement can be fine-tuned in order to meet your fitness needs.
Everybody approaches exercise differently. It's a deeply personal experience, so no matter where you're at on your fitness journey, no matter your body type, and no matter your goals, you should get a product that reflects you.
9 Unique Flavor Blends for Personalized Protein Powder
Personalization is key. Your protein blend starts unflavored, so you can make it your own. Here are our best-tasting protein powders you can choose from to make your supplement your own.
Strawberry Cream
Our Strawberry Cream blend is a balanced mix of sweet, fruity, and creamy, giving your Personalized Protein Powder a soothing, refreshing flavor. Fans of baked goods like strawberry shortcake will love this flavor blend. The Strawberry Cream blend in your Personalized Protein Powder is like a milkshake that fuels your gains without all the added sugars and lactose.
Madagascar Vanilla
Do you crave vanilla flavor? Vanilla is about as classic as you can get for flavor supplements. You've had it in your ice cream and your coffee. Now you can get that great French vanilla taste in your supplement. Enfuse your Personalized Protein Powder with a rich vanilla bean flavor that will make you excited to get ready to exercise.
Rich Chocolate
What's more mouthwatering than chocolate? Our Rich Chocolate flavor blend gives your Personalized Protein Powder the full, decadent taste of chocolate without the caloric cost. Treat yourself to this delicious flavor that tastes so good you'll want to drink it even when you're not working out.
Caffé Mocha
Are you that person that can't wait for your morning cup of coffee? Then our Caffé Mocha flavor blend is for you. The full-bodied, nutty taste of our Caffé Mocha flavor blend is perfect for people obsessed with coffee. Get fired up with every sip of your Personalized Protein Powder when you infuse it with those rich coffee notes you love.
Cookies & Cream
Under normal circumstances, you might reward yourself with a cookie or two after putting in a complete workout. With our Cookies & Cream flavor blend, you don't have to chase that flavor; your Personalized Protein Powder is its own treat. Now, that rich, sweet flavor profile you love about Cookies & Cream is packed with the kind of supplement that fuels your fitness.
Chocolate Peanut Butter
Chocolate and peanut butter are flavor combinations made in heaven. The smooth, nutty taste of peanut mixes perfectly with the full, rich flavor of chocolate. Our Chocolate Peanut Butter flavor blend lets you mix great flavor with a great supplement. Is there a better combination than that?
Matcha Green Tea
There's something about the taste of Matcha Green Tea that makes you feel healthy. This unique flavor with earthy, sweet tones will have you buzzing. It's a perfect complement to your Personalized Protein Powder. You'll feel great after your first sip and then feel even better after you've had a full workout.
Cinnamon Toast
Cinnamon toast is the go-to breakfast for when we're in a rush to get out the door in the morning. But the sweet, buttery taste of cinnamon toast is so good that you can't help but take a moment to appreciate the flavor. We've brought this cherished flavor to your Personalized Protein Powder so you can enjoy that Cinnamon Toast taste whenever you like.
Sea Salt Caramel
Sweet and salty mixed together result in an explosion of flavor. The saltiness enriches the sweet, the sweet balances the saltiness. Sea Salt Caramel perfectly captures this delicious balance of flavor. The deep salty flavor of sea salt takes caramel's sweet, nutty taste to the next level. Our Sea Salt Caramel flavor blend helps you take your workout to the next level.
We've crafted these nine unique flavors so you can make your workout all the more special. We love exercise, but when we have to drag ourselves to the gym, we think that great tasting flavor blends can spark that motivation that will help you follow through on your fitness goals.
When you can look forward to the delicious taste of your protein powder, you'll have one more reason to be excited to work out.
But it's not just our Personalized Protein that tastes great. For a more complete supplement regimen that supports you every step of the way, we also offer Personalized Hydration and Personalized Pre-Workout supplements.
Personalized Hydration
Performing at our best means keeping our body hydrated. Getting in a good sweat is the sign of a good workout, but it also means that you need to replenish your body with the nutrients and fluids that you've lost while you exercise.
To help you rehydrate efficiently, we've packed our high-quality Hydration blend with everything you need to keep on keeping on towards your fitness goals. The combination of four restorative electrolytes — calcium, potassium, sodium, and magnesium — will help you rehydrate and stay hydrated while you exercise.
And with a little cane sugar to encourage your body to process fluids faster, you'll be able to get back to your workout fast.
Your Personalized Hydration supplement also contains 150mg of caffeine and 250mg of l-theanine so you get a crisp boost of energy. It's the whole package when it comes to maximizing your endurance and performance at the gym.
You can see for yourself the ingredient list of what goes into every serving of your Personalized Hydration supplement.
Personalized Pre-Workout
Our Personalized Pre-Workout mix is designed to get you energized for your workout, maximize your performance, and reduce your recovery time post-workout.
Pre-Workout contains BCAAs, like our protein powder, to promote faster muscle recovery time and growth. Taking the time to include our high-quality Pre-Workout into your fitness regimen can save you loads more by helping you get back to your best.
It also has creatine, a popular ingredient that has been shown to increase muscle performance, as well as assist in recovery. We've included creatine in your Pre-Workout blend so you can recover faster and get more out of your workout. That way, you can really work your muscles and get the kind of workout that helps them grow.
And to get your energy levels up before you exercise, we've included l-theanine and natural caffeine so you're ready for a full workout.
Which Flavor Most Excites You?
We hope you get as much enjoyment out of all our unique flavors as we did making them. Gainful, we take pride in helping people reach and exceed their fitness goals. Whether you're just starting or well on your way on your fitness journey, Gainful has personalized supplements that will propel you forward.
Interested in getting even more out of your personalized supplements? Protein isn't the only option available. With our Performance Boosts, you can add additional grams of fiber, collagen, and creatine to your supplement packages.
Sources:

How Microtears Help You Build Muscle Mass | University Hospitals
Branched-chain Amino Acids (BCAAs): Do You Need to Take Them? | NASM
Ketosis After Intake of Coconut Oil and Caprylic Acid- WIth and Without Glucose: A Cross-Over Study in Healthy Older Adults | National Library of Medicine
What is Ketosis? Learn About Ketosis | Charlie Foundation
The Effect of Green Tea Extract on Fat Oxidation at Rest and during Exercise: Evidence of Efficacy and Proposed Mechanisms | National Library of Medicine