Home /
How to Train for a Triathlon
Author: Maria Fischer • Fact checked by: Tara D. Thies • April 14, 2021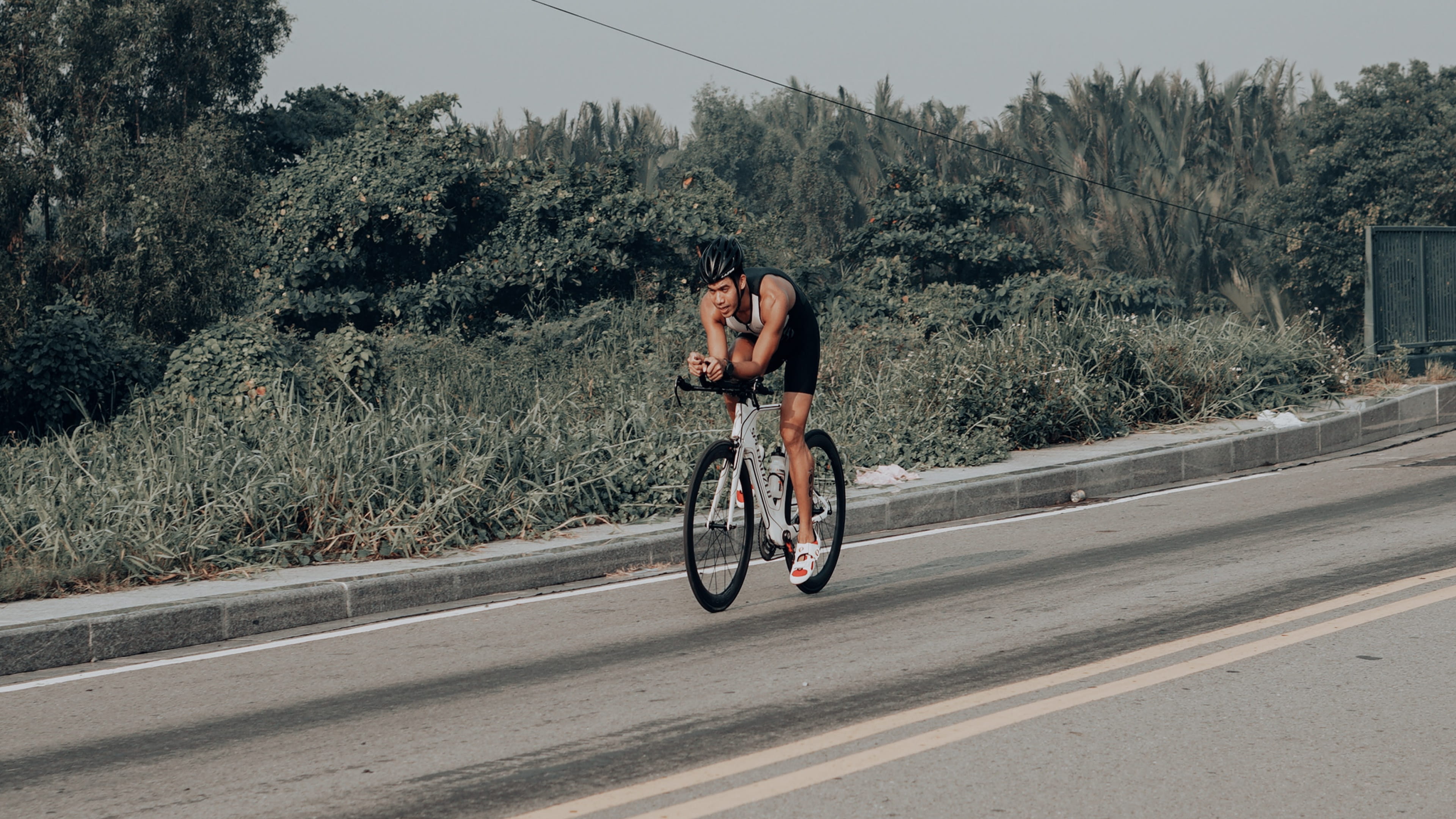 How to Train for a Triathlon
A triathlon is a continuous, multisport race that involves swimming, cycling and running over various distances. Most triathlons start with a swim leg (typically in open water), followed by a bike leg and then a run leg. A triathlon is a true test of cardiovascular endurance, and participating in this type of race is a huge goal for many athletes.
Want to take part in a triathlon but don't know where to begin? Keep reading for the ultimate triathlon training plan for athletes of all skill levels.
Competing in your first triathlon? Triathlon basics
All triathlons involve a swim, biking and a run, but that doesn't mean all triathlons are the same distance. There are a number of different triathlon distances. The shortest triathlon is the super sprint, which involves a 400- to 500-meter swim, a 10K (6.2-mile) bike and a 2.5K (1.6-mile) run. This triathlon distance is perfect for beginners trying to get a feel for a triathlon.
The next distance is the sprint — another common starting point for new triathletes. While it can vary course to course, a sprint triathlon usually involves a 750-meter swim, a 20K (12.4-mile) bike and a 5K (3.1-mile) run.
Next is the Olympic distance, which involves a 1.5K swim, a 40K (24.8-mile) bike and a 10K (6.2-mile) run. Previously known as the "international distance triathlon," the Olympic distance became a part of the Olympics in 2000. This set distance — a 1.5K swim, a 40K bike and a 10K run — has been called the Olympic distance since that first Olympic appearance.
Then you have a half-Ironman, which features a 1.2-mile swim, a 56-mile bike and a 13.1-mile run. A half-Ironman is exactly 70.3 miles in length. A full Ironman is 140.6 miles in length and is perhaps the most famous triathlon distance. Founded in Hawaii in 1978, an Ironman consists of a 2.4-mile swim, a 112-mile bike and a 26.2-mile run. Athletes have 17 hours to cross the finish line and become an "Ironman." The Ironman World Championship is held annually in Kailua-Kona, Hawaii, and many triathletes view the Ironman as the ultimate goal.
The first step in training for a triathlon is deciding which distance you plan to race. As noted above, many beginners choose a super sprint or a sprint for their first triathlon; however, every athlete is different. Some athletes jump right in and train for an Ironman without having a shorter triathlon under their belt. It's important to choose a race that makes sense for your level of fitness — you want to be able to finish the race. Don't over-exert yourself or put your body at risk. That said, if you've never done a triathlon before but feel confident you can take on a full Ironman, there's nothing that should stop you from training and working toward this goal.
Once you've determined your race distance, you then have to begin planning out your triathlon clothing and gear. For training, you'll want a pair of tri shorts. Tri shorts are different from bike shorts or compression shorts, as they're made out of a material designed for swimming, biking and running — not just cycling. Tri shorts are longer than bike shorts with reduced padding. For your top, you can invest in a tri top or singlet, or you can just wear a regular workout shirt. You'll need a bike helmet and running shoes. Pay attention to the laces: You'll want a good pair of triathlon elastic, lock or knotted laces for faster on/off. A wetsuit is highly recommended, and you'll also want swim goggles. For race day, your best bet is to wear a triathlon suit, as it is a one-piece, quick-drying all-purpose gear that can be worn all the way through the race; however, you don't need to wear a triathlon suit for training. Just test out your triathlon suit a few times before race day to get an idea of how it feels.
You'll also want to pick up a swim cap, a towel and a pair of sunglasses. Cycling glasses will help protect your eyes during the bike leg of the race. You'll also need a bike, but it does not have to be expensive. People have competed in triathlons on mountain bikes, hybrids, etc. A road bike is best for a triathlon, as its gearing and smoother tires are best for this type of race; however, any bike can be used as long as it fits your frame correctly and your shoes are compatible with its pedals. If you are serious about competing in multiple triathlons and are in the market for a new bike, purchasing a triathlon bike is another option. The gearing, geometry of the frame and efficient aerodynamics are made to enhance triathlon results. If you use a triathlon bike for your bike ride, your legs will save energy for the run portion of the race.
How much time do you need to train for a triathlon? Sprint triathlon vs. an Ironman
You've chosen your distance and you have your gear — so now what? It's time to establish a swim/bike/run schedule. You want to make sure you give yourself enough time to properly train for a triathlon. For most people who exercise regularly, 12 weeks is more than enough time to get sprint (or even Olympic) triathlon-ready. If you're looking for a condensed training plan, the New York Times offers a guide for training for a triathlon in six weeks.
If you're participating in a longer distance race like an Ironman, you'll want to give yourself at least 24 weeks, or six months, to train. Many athletes give themselves a year to train for an Ironman.
Establishing a swim/bike/run schedule
In the beginning of your training, you should spend 1-2 days a week focusing on just swimming, 1-2 days a week focusing on just biking and 1-2 days focusing on just running. Add in a day where you focus on combinations, or a brick workout. (For example: Swim 1,000 yards, then hop on your bike and cycle for 12 miles.) Most triathlons involve open water swimming in a river, lake, bay or ocean, so while you may train in a pool, make sure you practice out of the pool (perhaps in a local pond) at least a few times before race day — especially if this is your first race. You don't want your first open water swim to be during your first triathlon.
Be sure to give yourself at least one day of recovery, or a rest day, each week. As you get closer to race day, you should add more brick workouts to your training schedule. The week before your race, follow a reduced training plan.
Race day tips
You'll want to start preparing for the race day about a week in advance. Prepare your gear: Check the tires on your bike, test your laces and set aside your race numbers, bib belt, the clothing and other equipment (helmet, goggles, sunglasses, visors, etc.) you'll need for your triathlon. Pack extra clothing and a comfortable pair of shoes that you can wear after the race, and consider bringing an extra pair of goggles and swim caps in case they are not provided. You might also want to bring a pair of flip-flops to walk around in before the swim leg of the race begins. Don't forget to have a water bottle and race day snacks ready to go.
The night before the race, focus on getting enough rest. Sleeping well will allow you to perform your best. Avoid eating any new or unfamiliar foods for dinner, and stay hydrated.
When you wake up on race day morning, aim to consume around 300-400 calories of easy-to-digest carbohydrates. Think a bagel, toast, granola, a banana or oatmeal. Include 20-40 calories of protein and fat, like nut butter or an egg, with your breakfast along with 20 ounces of fluid. You should have breakfast 2.5 hours before the triathlon starts, but make sure you've eaten something at least 90 minutes before your race. Do not introduce new or unfamiliar foods into your diet on race day, as you don't want to take the chance of having to deal with unexpected stomach issues during your triathlon. Many triathletes also skip their morning coffee on race day, as it is diuretic. If you need a drink to replace your coffee, try consuming a hydration formula for a burst of natural energy.
Once you've arrived at the course, set up your transition area. Try to keep the area as minimal and clutter-free as possible. It may also help to use a unique or bright towel to mark your spot.
Do a final bike check at transition (make sure your front wheel is facing out and the pedals are in a proper position), then start your warm-up. Your warm-up should include dynamic stretches — a set of active stretches and movements that awaken muscles and elevates your body temperature. These active movements prepare your body for optimal performance. Some dynamic stretches include leg swings, lunges, high knees, shoulder rotations, arm circles, torso twists and butt kicks.
Once you've started the race, you can keep your body fueled and delay fatigue by consuming sports drinks and hydration formulas or chewing run gum. After the race, take time to cool down and refuel with carbohydrates and protein to kickstart your muscle recovery. A winning refuel combination of protein and carbs will ensure your body can maximize protein and glycogen synthesis. Make sure your protein source has the three branched-chain amino acids, or BCAAs: leucine, isoleucine and valine. These essential amino acids are used by the body to alleviate fatigue, improve athletic performance and stimulate muscle recovery after exercise. In fact, a recent review of eight studies determined that supplementing with BCAAs was even superior to rest in promoting muscle recovery and reducing soreness after intense exercise.
A protein powder made for athletes
Remember: Nutrition is an important aspect of triathlon training. For athletes, the International Society of Sports Nutrition (ISSN) recommends an intake of 1.4-1.8 grams of protein per kg of body weight per day.
Using protein powder is an easy way for triathletes to get the protein they need to fuel their bodies for long races. When proteins are separated from their whole food source and turned into powder, they're able to be absorbed by the body quickly. This allows you to get the protein your body needs to recover and successfully power through a triathlon and those lengthy training workouts.
If you're not sure which protein powder is right for you and your triathlon training plan, you can turn to Gainful for guidance. Through Gainful, athletes can create a customized protein supplement based on their body type, dietary needs and fitness goals (competing in a triathlon included). You just take a quiz to find your personalized protein (and a personalized hydration formula), then Gainful creates your blend and sends it straight to your door. As part of your Gainful subscription, you'll also have access to a Registered Dietitian, who can answer any questions you may have about your triathlon training program or wellness in general.
From super sprints to Ironman races, Gainful is here to help fuel you through your triathlon.